QUESTION
I'm designing a flexible wood floor diaphragm with a deck. The deck will be having a cantilevered diaphragm because there is no shear wall below the cantilevered part of the deck. I would like to get some tips about how to approach to a condition like that. I was planning to use hold downs…
There are walls above sitting on the shown diaphragm but not at the cantilevered section.
Here is a rough sketch: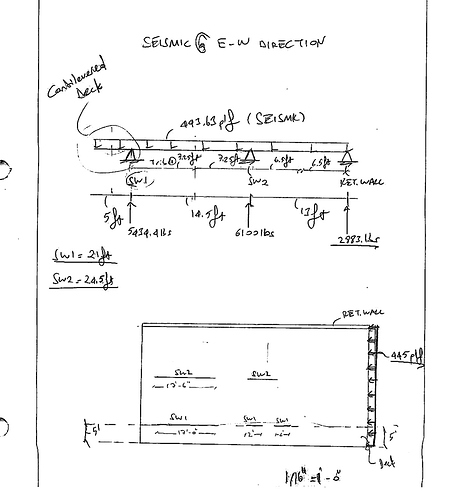 REPLIES
Jayrod12
At only a 5 ft cantilever, I would make sure your diaphragm nailing has enough capacity to transfer the small portion of load into the shearwall and be done with it. It's very long and narrow, I can't see anything that jumps out at me as concerning.
SOURCE
https://www.eng-tips.com/viewthread.cfm?qid=437684
Above is a snippet.