I am trying to message a user but I can't figure out how to do that. Please help
Left click their emoji or username, then left click the orange message rectangle.
Or, if you are posting a question or reply and want to draw a particular member's attention to the post, type the @ sign followed by their user name.
Like @mfstructural
@David, There is an item called FAQ (new), shaded yellow in the screenshot below. At present, it shows a revolving circular arc. I assume the intention is to put site specific information in FAQ (Frequently Asked Questions). If not, what is its intended purpose?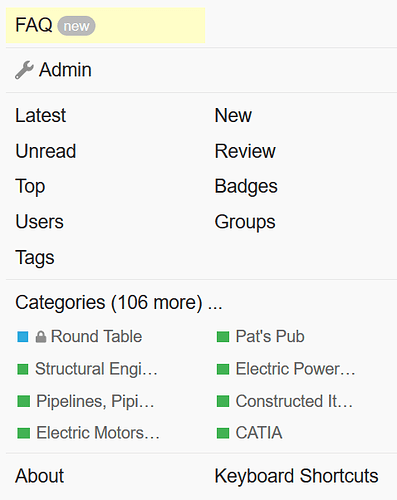 ba
I you're talking about my screenshot, it occurs when I press the "hamburger" icon next to my avatar.
@BAretired Yes, we know about that. Thank you. We are noodling on how to fix it. It's not a high priority, so we'll get to it as a filler job for the programmer.
Noodling…good idea @ Latexman.