1-2 weeks ago a wobbly agitator shaft was spotted on a polymerisation reactor through the top head sight-glass. The damage was found to be a damaged drive shaft [403] and keyway in the bottom half of the coupling [363].
An investigation could not find a recent incident that directly caused the damage, so it must have developed slowly after the mechanical seals were repaired two years ago. Also, during the investigation, the bottom Chemineer S-4 impeller (tickler turbine) was found damaged.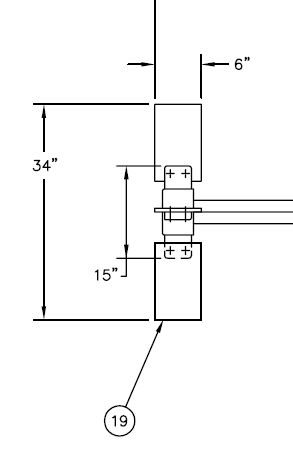 By looking at past pictures taken through the top head sight-glass, it was determined this impeller was damaged 1.5-2 years ago, or within six months after the mechanical seal repair. It was hypothesised that during an abnormal batch, the agitator was turned on while only the bottom S-4 impeller was sitting in sludge/solids. So, the full 60 hp was concentrated into the bottom impeller, the shaft wound up like a spring, when the impellers bent approximately 90 degrees, the spring un-sprung suddenly sending a shock wave up the shaft, knocking the coupling loose from the friction fit taper bore joint. Then, over time it wallowed and wore away.
Now, for my question. We'd like to test this hypothesis. Is 60 hp enough to bend the four 1/4" thick 316SS plates of the S-4 impeller? Is that calculable? What equations apply? References?