I have posted a few times already about my interests and goals to have a machine shop of my own.
[CNC Router Table Design References
I have made some progress so far, since I've had some basic machining tools for a long time.
My recent acquisition is a small/medium size manual lathe. The intent is to learn to use this more rigorously than the lathes I've used in the past, especially how to align parts and set-up tools for precision work.
Here it is with some special items added already:
Custom table built by the previous owner, painted by my son.
Custom back-splash with t-slot shelf racking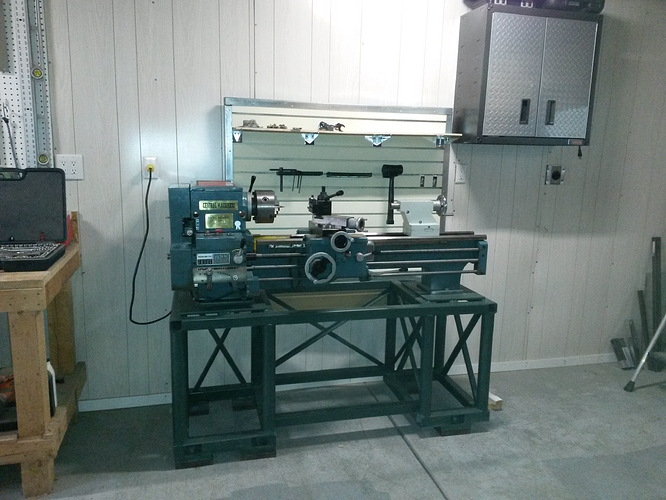 This lathe was made in 1986 in Taiwan. As far as I can tell all of the mechanical components are OK. The drive belts are a bit worn but this is hardly surprising. This model of lathe has been copied many times over the years - its "descendant" is still available from Grizzly but there are variants from Frejoth, Enco, and probably others. Hopefully that means that it will be easy to buy parts.
The electrics are glitchy, and I am in the process of re-wiring the stop/start/reverse circuits to behave more safely and reliably. It goes beyond having oil in some switch contacts; no point explaining.
There are many ways to go from here… Invest in more equipment, or in better use of the equipment one already has. Seek revenue from fabrication projects, or focus on personal projects or self-education.
Attempt to supplement the money already spent with revenue, or accept it as worthwhile in its own right. I like having choices and I don't think I need to pick one path yet.